Sat June 14th "The Art of Digging" Artshow,Record Swap &BBQ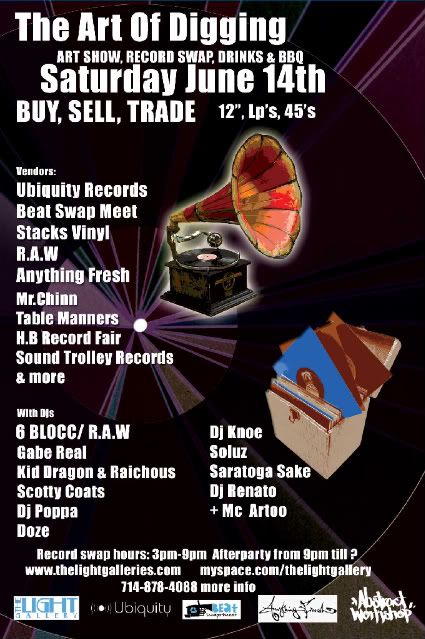 Over 50 Participating Artists! Rusty Sherrill | Paseo | Paul Torres | JW miller Dektown | Netherland | 3 Sheets | Garry Booth | Ryan Milner| Yuki Miyizaki | Tim Melidas | Stephen Locutsoff | Greg Rodriguez | AHHDART | Bruce New | Maximilian Buschman | Adriaan Mol | semigod | Ross Pruitt | Beecee | Paranoid Girl | Tracey Mines | Rob Enriquez | Douglas Alvarez | Tooter | Justin Barry | Scott Aicher | Ray lopez | Link David | Peter Adamyan | E.T.7 & More!
Confirmed Lineup so far:
VENDORS:
Ubiquity records
R.A.W.
Beatswapmeet
tablemanners
Light Galleries
Stacks Vinyl
HB Record Fair
& More to be announced!
DJ Lineup
6 blocc > R.A.W.
Kid Dragon & Raichous
Gabe Real
Scotty Coats
Knoe&Soluz
E.T.7
MC Artoo
& more to be announced!
3pm-9pm record swap
The mission of the Art Of Digging Project is to bring awareness to preserving the Vinyl music format. Since the digital wave of music distribution has taken over, artists have been losing their rights to their creative works. The downloading of music in MP3 format has in turn suffered a loss in quality due to the compression of the artist's vision. The Light Gallery is committed to generally further the causes of quality FIRST in music distribution & broadcast. We're doing our part to keep the Soul, Art & Sound of Vinyl around, that feeling that digital music just can't duplicate. As we take steps to advance the the progression of the soundsytem culture, We hope you'll join us in the fight to keep vinyl alive!